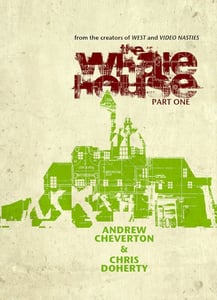 £

2.50
Who are you? Where are you going?
Diggory Wallis is on the road - leaving behind his job, his girlfriend, his best friend... and the graves of the two people he had always thought were his parents.
Diggory's life has broken free of its moorings, and he is adrift.
But when you don't know where you're going, there's no telling where you'll end up...
Written by West writer Andrew Cheverton and illustrated by Video Nasties creator Chris Doherty.
The Whale House (part 1) is the first issue of a new mini-series - 24 pages of black and white story, with full colour covers - and is available via Paypal for £2.50, P&P extra, in the U.K. International rates vary, so please use the Contact button on the right for a personal quote.