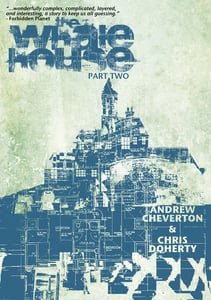 £

2.50
Why are you here? What do you want?
Diggory Wallis has left behind his job, his girlfriend, his best friend... and the graves of the two people he had always thought were his parents.
Seeking refuge when his car breaks down deep in the countryside, Diggory is taken in at Southlands, home of the Whale family, who all seem mistakenly convinced that he is their long-lost son Doran.
Stranded, Diggory finds little option but to politely bluff his way through the evening. Surely rationality - and reality - will prevail?
Written by West writer Andrew Cheverton and illustrated by Video Nasties creator Chris Doherty.
The Whale House (part two) is the second issue of a new mini-series - 28 pages of black and white story, with full colour covers - and is available via Paypal for £2.50, P&P extra, in the U.K. International rates vary, so please use the Contact button on the right for a personal quote.