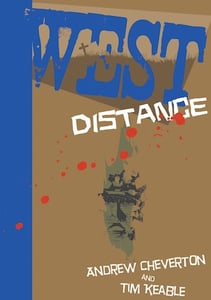 £

15.00
A name heard in stories, breathed in whispers.
We've previously seen Jerusalem West as a lawman, a wanderer, and a bounty hunter.
But now, with a chance encounter on a civil war battleground, we begin to see glimpses of the past that set the man on the path of destiny which will shape his future.
In stories ranging from the killing fields of the Civil War to the swamps of Louisiana, from New York City to the plains of Montana, the fingers of fate - and something darker and far, far older - begin to twist around Jerusalem West.
You think you know Jerusalem West... but you only know half the story.
West: Distance is a 192-page hardcover edition, limited to 100 signed and numbered copies. It contains all six issues of Volume II as well as the previously uncollected Issue 0: Tall Tales from Volume I, and features a bonus gallery section of cover art, unused pages, promotional art and sketches. All 100 copies come with an A5 West print by Tim Keable. Both the print and gallery pages are exclusive to the hardcover and will not be reprinted in the paperback. This edition is available via Paypal for £15.00, P&P extra, in the U.K. International rates vary, so please use the Contact button on the right for a personal quote.
Written and lettered by Andrew Cheverton and illustrated by Tim Keable, with guest art from Emma Price, Paul B Rainey, Jenika Ioffreda, Warwick Johnson Cadwell and Andrew Cheverton.
(Collects Tall Tales, Distance part 1, Distance part 2, Stray Bullets, Confederate Dead, Points West, and Autumn Dusk.)