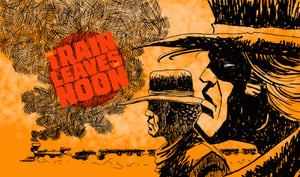 £

3.00
Kansas, 1891. While travelling across state, Jerusalem West and Wilton Frohickie encounter a mysterious and bedraggled figure, a man who hands over a tattered journal before dying and wasting away in front of them. The journal may lead to treasure... or it may lead to damnation.
So begins a journey between life and death, this world and the next, as West and Frohickie are drawn into a surreal, nightmarish adventure in the dark side of the American West.
'The Train Leaves At Noon' is a unique entry in the ongoing saga of Jerusalem West - told entirely in the form of a daily newspaper strip. Previously featured in John Maybury's "The Newspaper Strip Collection of Oscar Charles Drayton", and collected here for the first time, this edition now features the never-before-seen conclusion to the story.
Written by Andrew Cheverton and illustrated by Tim Keable, The Train Leaves At Noon is 20 pages of black and white story in a special landscape format, with full colour cardstock covers.